06 Apr, 2020
We grew up thanks to our clients, so we want to make it easier for them to select their ideal office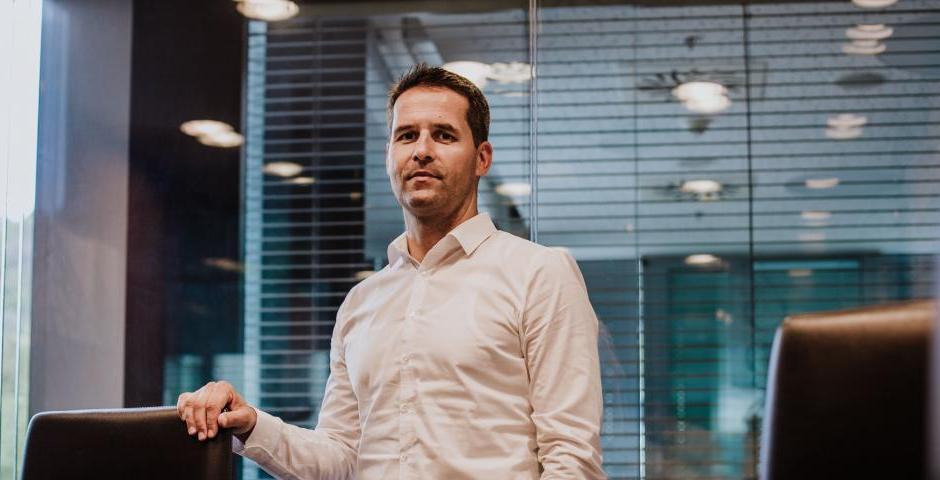 Starting in March, the complete list of avaliable office space from the portfolio of J&T REAL ESTATE (JTRE) will be accessbile in one place on the new Bratislava Offices web portal. The project is lead and being presented by Peter Píš, the head of the JTRE leasing department.
With Bratislavaoffices.sk, JTRE launched an online market after 24 years of operation. Why have you decided to create such a platform now?
JTRE has developed and delivered a vast number of administrative projects during our 24 years of operations. Because there are so many, clients are having a more difficult time orienting themselves and understanding all their options and their solutions. We want to make this process more efficient and transparent for them, as our brand and reputation is built on those principles. In Bratislava alone, our team oversees just over three hundred thousand square meters of office space, so a web portal aimed at facilitating access to all available spaces in our projects and consolidating them within one accessible platform, where we can communicate all that information was a logical step.

What type of clients is the web portal Bratislavaoffices.sk intended for?
Since the avaliabilities include office space of various sizes and different types, I would say that every interested party will find office space that perfectly fits their criteria. Small and start-up businesses looking for small office space, as well as large multinationals and corporations looking for space ranging in hundreds to thousands of square meters, will find the ideal space. Many of our completed administrative projects cover virtually all types of office space - shared, agile, executive, traditional, open space or boutique. So, there is something for everyone.

What was the guiding principle of an avaliable office space portal?
The main goal of the project was to simplify the client's access to the complex offer of our avaliable office space, so we decided to use a proven search platform. Based on the simple principle of entering the required parameters of the searched office into the "user friendly" system, the candidate will get a narrowed list of options that meet all the entered criteria. On the basis of the result, the interested person or party contacts a particular broker who is in charge of the project with their inquiry.

What should clients do if they want to quickly and easily choose from available vacant offices?
The basic building element of the portal is a map of Bratislava, where buildings with free office space are displayed. In addition, the bidder also sets the price range per square meter and the size of the office they are looking for. Location, price and area are, in our experience, the main attributes in finding the right office, so they are the first step in the process. The resulting offerings already include detailed specifications for selected office space, allowing clients to then make decisions based on space standards, building location, accessibility, nearby services, environmental certification, or even other firms occupying the building.

What features will visitors find at Bratislavaoffices.sk?
The web portal bringing together all JTRE's administrative projects has intuitive functionality with various filters that greatly facilitate orientation in finding a tailor-made office space. In addition to filters, an important and helpful feature is the possibility of comparing selected avaliabilities. Based on this system, the undecided client can easily compare preferred spaces and consider which criteria are more important to them. In addition, the blog section of the web portal informs the user about news and trends in the field of modern and functional work environment, providing useful and inspirational information to all who deal with this issue in companies.

What is the current situation on the vacant market in Bratislava?
Despite the lower activity of new leases, compared to the best years 2014 to 2016, it should be noted that the demand for new offices reflects current market sentiment. We can therefore conclude that rentals still reach favorable numbers. In the long term, the vacancy rate of office space has been below 9 percent, despite the large volume of construction in recent years. The last quarter of last year was a vacancy of 8.73 percent and approximately 11,000 m2 of new office space was delivered to the market. Office buildings completed by our company in recent years are over 90 percent occupied. Of the most recent projects, Landererova 12, recieving its certificate of occupancy in mid-last year boasts a current occupancy of just over 90%, Pribinova 19 has 100% occupancy and Zuckermandel is 95% occupied.

JTRE is one of the few large developers focusing on both administrative and residential projects. Which area is more important to the business?
JTRE is a city-creating developer, so it creates and provides people living space with great value and compliments those living spaces with other amenities, whether it's space to live, work, or play. We focus on creating integrated zones that create a compact environment providing residents with both residential and administrative projects. For already realized, but also planned projects, we see a balanced ratio of the number of use types, so that all functions are covered.

What can a client who opts for JTRE office space expect?
We offer a comprehensive service, which is the rental of commercial premises. We do not like to hide behind the standard phrases that characterize the "complex" claim of corporate firms, as we help small businesses with two or three employees or large multinationals. Those who know and have experienced our leasing or commercial space department know that we are a bunch of young and enthusiastic people with the sole aim of satisfying the client with the proposed solution. It sounds like a cliché, but together with our clients we have developed into the largest commercial landlord in Bratislava and we believe that we will continue to grow. That is why we have prepared a simplified tool for our potential partners to be able to find us under one roof.